What is Digital Marketing?
Ever since the creation of the internet, people have tried to find ways to influence the platform.
This is because it holds a lot of power, especially in 2020.
Digital marketing is one of the ways we can work towards owning a share of the internet, and thus increases the power we hold.
In this article, we attempt to overview some of the main marketing strategies that make up the umbrella term "Digital Marketing."
Defining Digital Marketing
Digital marketing is a form of marketing that utilizes a wide range of online and web-based technologies to boost products and services.
Contrary to traditional marketing, digital marketing allows for companies to use the electronic and online world to market more efficiently, allows for direct engagement, is cheaper, and has many more benefits.
Below are some examples:
Search Engine Optimization (SEO)
When it comes to digital marketing, a great way to increase organic awareness and customer acquisition is the use of Search Engine Optimization, or what will be referred to as SEO from now on.
There are many different SEO strategies, but the core of SEO is to be higher on search results in engines like Google.
For example, when you google "Why digital marketing is important," you will likely get a blog or article on the topic. This is because the blog-writers have, whether or not voluntary, implemented SEO strategies.
The strategies used can be categorized into two types: on-page and off-page SEO.
On-page SEO
What is on-page SEO? It's whatever you do to or on your website to increase your ranking in search engines.
Keywords
When it comes to on-page SEO, one of the most important tools used are keywords.
Implementing keywords in your articles or websites can boost your ranking in search engines. This is because keywords are used by google to rank search results, so when you search a phrase, you get content that is relevant to your keyword or keywords.
Now, of course, filling a website with a single word doesn't mean that it will automatically jump to the top of the search results. The quality of the keywords matters as well.
This mistake, cramming a site filled with keywords, is commonly known as "keyword stuffing," and can kill your SEO. It generally leads to high bounce rates and a possibility of a search penalty from search engines.
Modern search engines can recognize keywords in context with the words around them to determine if the results will match not only the users search, but the intent behind it as well.
It's important to note that keywords do not have to be used at insanely high frequencies to be effective. Mentioning it a couple of times in a post is alright. But keywords should be used to promote to users what you provide in response to what they are requesting, without ruining the user experience.
Internal and Outbound Linking
Next, another important on-page SEO strategy is internal and outbound linking. Referencing other related pages, outbound linking, is a great tactic. Doing this lets Google know that you are a source of quality info, and thus increases your search result rank.
Internal linking is the process of linking to other pages within your website. Google recognizes this, and it helps your on-page SEO.
Off-page SEO
Lastly, off-page SEO, as opposed to the previous examples, looks at the things you can do outside of your website to increase your rank on search engines. A large part of this is links, but any mention of your site lets Google know that others recognize you, and that's important to improving your SEO strategy.
Some more information about SEO is available in this blog.
Content Marketing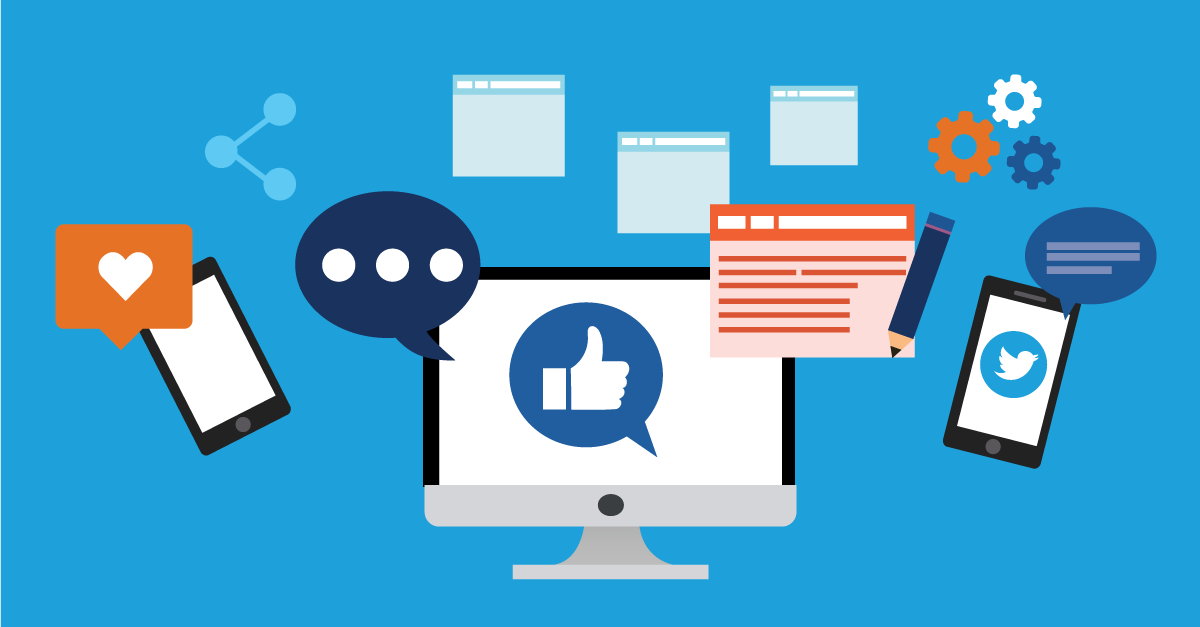 Content Marketing is another important aspect of digital marketing, and probably the most pervasive nowadays. It refers to the strategic approach to creating and marketing thoughtful, distributable, and relevant content to a defined audience.
This includes video advertisements, infographics, websites, etc. All of these are possible forms of content marketing which have a focus towards attracting the consumer not through the product, but by related content.
There are many reasons why companies choose content marketing, but the main reason is that it increases awareness across multiple platforms.
You are more likely to receive conversions when more people land on your page, even if it isn't for the product, but for the content. This is why engaging content is so effective.
Learn more about content marketing in our blog on the subject.
Social Media Marketing

Similar to content marketing, social media marketing focuses on attracting consumers towards your product/service through creative ways. Social media is used as a medium for this content, and they often overlap.
It differs, however, in that it also uses the platform to drive website traffic through advertisement (including SEO, which we talked about in a previous section). Companies can use social media marketing as off-site SEO, or if the company is run through social media, on-site SEO.
Using strategies, including pay-per-click advertisements (SEM), which we'll talk about in the next section, companies can increase awareness and reach.
Social media marketing also seeks to increase engagement with your client base. The idea is that the company is able to directly answer questions or thank clients for feedback and this behavior is regulated by the presence of the entire online audience.
It can also be used for web traffic analysis, like Google Analytics. Facebook has their own analytics service that allows companies to see who is visiting their site, user behaviors, device types, location, etc.
Online PR

Contrary to traditional PR, online PR focuses on acquiring mentions, interviews, etc., through online means.
Essentially, it means getting recognized by other online companies, news media, or others.
This can be achieved through press releases, building relationships with online journalists/bloggers and publishing content with the goal of getting backlinks.
The two main goals of online PR are increasing customer awareness and increasing search engine relevance (SEO).
Pay Per Click (PPC)/SEM
Pay-per-click is an advertisement form in which the company pays for their ad, every time it is clicked on by a client.
This is the current major form of SEM, or search engine marketing, where the traffic that is being brought to the website is not organic.
This form of advertising is very useful as a corollary to SEM, which is why when people talk about online marketing, they generally bundle SEO and SEM together.
Due to the fact that there isn't a flat fee for PPC ads, the payment is directly proportional to the web traffic. This is beneficial, because if the PPC campaign has a low search volume, it does not result in a severe draw-down of your marketing budget.
PPC ads also target keywords and negative keywords (the exclusion of certain keywords) when internet users enter them into a search engine. You can use services like Google Analytics in conjunction with Google Data Studio to assess the success of your online marketing campaigns and make data driven marketing decisions.
Email Marketing
Email marketing is another strategy implemented by companies in which they send emails with content, advertisements, solicitations, etc. to clients and prospects.
This is generally a low or no cost strategy, and its implementation is generally not difficult, so it makes it an appealing strategy to use. This method does have some drawbacks
These include emails going to spam, design problems (as your design might not crossover well to different devices), and they generally require additional resources, because email marketing campaigns have to do a good job at selling the product/service to be successful.
Other Email Campaigns can be purely informational, and can easily be created and scheduled in advance. Examples include: Company updates, holiday announcements, monthly newsletters, etc…
Programmatic Display
Programmatic Display is the use of software to target audiences and bid for ad placement automatically. This type of advertisement is used all the time in digital marketing, as most ads online use software to buy their positions.
The majority of these software selected approaches include multiple demographic and geographic settings to define your audience. For example, if you are a local restaurant you may want to limit you paid advertising to devices within a 30 mile of your business.
Ads are generally more effective when a target audience is well defined and tested.
What's the role of digital marketing in your company?
The role of digital marketing is to curate or generate content in order to increase brand awareness, conversions, and to help your customers along their buyers journey by assessing web traffic and content performance to optimize their experience.
How we can fill that role
Our team consists of talented people who are skilled in strategic marketing, and we have a feeling we may be able to help you too!
Contact us at info@digitalmarketingpi.com or 281-764-1866 to get started today.